It is becoming increasingly apparent that with generic online marketplaces on the rise, what companies really want and need is customised content that evokes a sense of ownership and belonging for employees who are undertaking it. 
Customised content is not just about grabbing something of the shelf and putting a logo on it. Your training ecosystem has to go far deeper than that. It needs to be tailored to fit the company tone of voice, brand guidelines, visuals and company specific scenarios. More importantly, it needs to speak to the employees. Digital learning must inspire staff to learn by providing knowledge that is relevant, relatable and retainable. It's important that people walk away from any learning experience feeling they have achieved something and their learning style has been considered.
That's where our team comes in.
It's in our DNA to generate innovative ideas, new designs and fresh ways of presenting knowledge so that individuals want to return to learn more. 
All of our content can be published to SCORM 1.2, SCORM 2004, AICC, HTML5 or TinCan API, to suit any SCORM, AICC and TinCan API compliant Learning Management System (LMS) or Learning Records Store (LRS).  Or you can deliver directly via the web or offline. Just let us know where you are setting up your course and we'll publish to suit your deployment strategy. 
The choice is yours.
Our flagship service of Custom Design involves a streamlined and fluid 4-Step process from client inception and concept, to a full-scale service delivery and end result product to be rolled out across our client's local, national and global businesses.
Our core values to be Courageous, Passionate, Generous, Adaptable, and Uncomplicated, stand us in good stead as industry pioneers and leaders of the eLearning space.
We grow with our clients and constantly strive to evolve our approach to training, education and development of the eLearning arena. In the dynamic space of digital learning, we are experts at transforming client needs and objectives into entertaining and educational products their staff retain, remember, and want to revisit.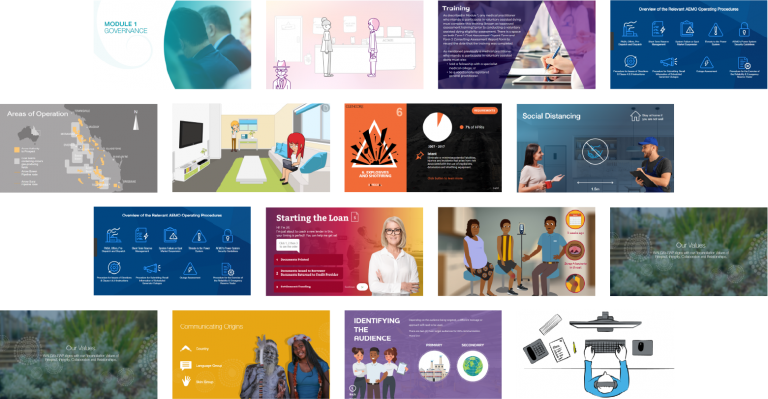 Check out some of our work!
Looking for customised content for your training ecosystem?
To find out how we can turn your complicated and complex learning briefs into simple custom solutions that get results, contact us.